---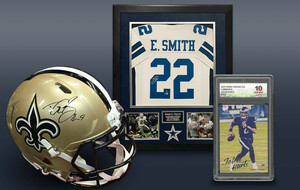 NFL Collectibles & Trading Cards
Who's Ready For Some Football?
You can't spell influential without NFL. With over 100 years of history and an annual championship game that's one of the most watched events in television history— it's no secret that football is America's game. Pay tribute to this incredible sport and the legendary players who make it all happen, with this specially curated collection of authentic, autographed NFL collectibles, trading cards, and displays commemorating some of the most iconic players to ever step foot on the field.
Sale Ended
The sale has ended for this item, but check out our other amazing sales.